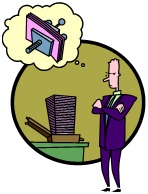 There is a good article by Alexander Weber Morales on project management tools and techniques for managing improvements to an organization in Software Development Times, Sep 1, 2010: "It's time to change … but how?" In particular, he comments that "studies have found that creative solutions to problems actually decrease under external pressure such as deadlines …."
This is similar to what I've observed with teams moving from compressed schedules to realistic schedules (for more on this see In Project Management 9+3 Is Not Equal to 12). While the realistic schedule is still a challenge, more productivity improvements happen with realistic schedules as people have the time to innovate and improve how they do their work. This is in contrast to the compressed schedule where there is insufficient time to just get the core tasks done which in turn discourages taking the time to try new things that could improve productivity.
Just getting the schedule right (the overall duration of the project, not necessarily the individual milestones) can make a huge difference in all aspects of project success.