Home
»
Posts tagged "Research"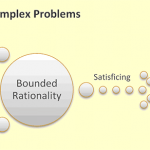 All we are trying to do is stay unaffected by the hype and emotions and stay grounded in reality.
Continue reading »
My article on e-mail infoglut resulted in a pointer from DoddsSimon to Inbox Zero by Merlin Mann. Merlin takes classic time management ideas and applies them to e-mail. One notion he presents is that much of your e-mail becomes "dead skeletal husks" and can be thrown away. I'm going to suggest instead that your "old" e-mail can be a great project management tool.
Continue reading »